Sponsorship Opportunities for the Garden Gala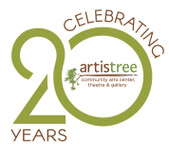 Help us host a memorable evening while celebrating 20 years of Artistree community service.
This fundraiser will support Artistree's visual and performing arts programs, scholarships for all ages, and outreach classes at K-12 schools, social service centers, and community organizations.
Our tented benefit will begin with cocktails and music, followed by a delicious small plates dinner with a wide variety of cuisines from Christophe Catering. The evening will continue with dessert, musical entertainment, an anniversary program, and silent and live auctions. We'll cap the evening with lots of dancing to a live band!

SPONSORSHIP OPPORTUNITIES
Platinum: $15,000 *Only one available!
Exclusive sponsor of the delicious Garden Gala Small Plates Dinner!

Two reserved tables for a total of 16 guests ($3,200 value)

Prominent display of business or donor name at the event

Recognized in Artistree's e-newsletter distributed to approximately 5000 households

Verbal acknowledgement during the gala program

Full page business ad and/or donor name listed under "Platinum," in gala program ($1,000 Value)

Business logo or donor name on gala website

Tax-deductible amount = $13,040
Gold: $10,000 *Only one available!
Exclusive sponsor of the highly memorable, action-packed Live Auction!

Reserved table for 8 guests ($1,600 value)

Prominent display of business or donor name at the event

Recognized in Artistree's e-newsletter distributed to approximately 5000 households

Verbal acknowledgement during the gala program

Half page business ad and/or donor name listed under "Gold," in gala program ($750 value)

Business logo or donor name on gala website

Tax-deductible amount = $8770
Silver: $5,000
Sponsors the Garden Gala Cocktail Reception!

Four tickets to the gala ($800 value)

Prominent display of business or donor name at the event

Recognized in Artistree's e-newsletter distributed to approximately 5000 households

Verbal acknowledgement during the gala program

Quarter page business ad and/or donor name listed under "Silver," in gala program ($500 value)

Business logo or donor name on gala website

Tax-deductible amount = $4180
Copper: $1,000
Sponsors the rockin' Garden Gala Dance Party!

Two tickets to the gala ($400 value)

Display of business or donor name at the event

Verbal acknowledgement during the gala program

Business or donor name listed under "Copper" in gala program

Business or donor name listed on gala website

Tax-deductible amount = $840
Bronze Sponsor: $500
Sponsors the ACT Jr. Youth Theater Performance!

Display of business or donor name at the event

Verbal acknowledgement during the gala program

Business or donor name listed under "Bronze" in gala program

Business or donor name listed on gala website

Tax-deductible amount = $500
ADVERTISING OPPORTUNITIES
Gala Program Advertising:
Full page ad: $1000
Half page ad: $750
Quarter page ad: $500
Business card: $250 for individuals and businesses

*Deadline for sponsorships: June 1, 2023
*Deadline for advertising materials: July 1, 2023

Call or email Karen Rodis, Development Manager, at 802.457.3500 X115 or development@artistreevt.org

Download the Sponsorship Opportunities