TWO PAINTERS: Elizabeth Ricketson & Richard Gombar
Artistree is excited to welcome local artists Elizabeth Ricketson and Richard Gombar to our gallery for a special exhibit! Though Elizabeth and Richard have different painting styles, both painters create pieces that evoke emotion and capture the viewer's imagination. This is a colorful and moving exhibit highlighting the beauty, wonder, and power of nature in its many forms.
Join us for an opening reception for TWO PAINTERS on Friday, July 21 from 5:30-7:30pm.
Gallery Hours: Tuesday - Saturday | 10am to 6pm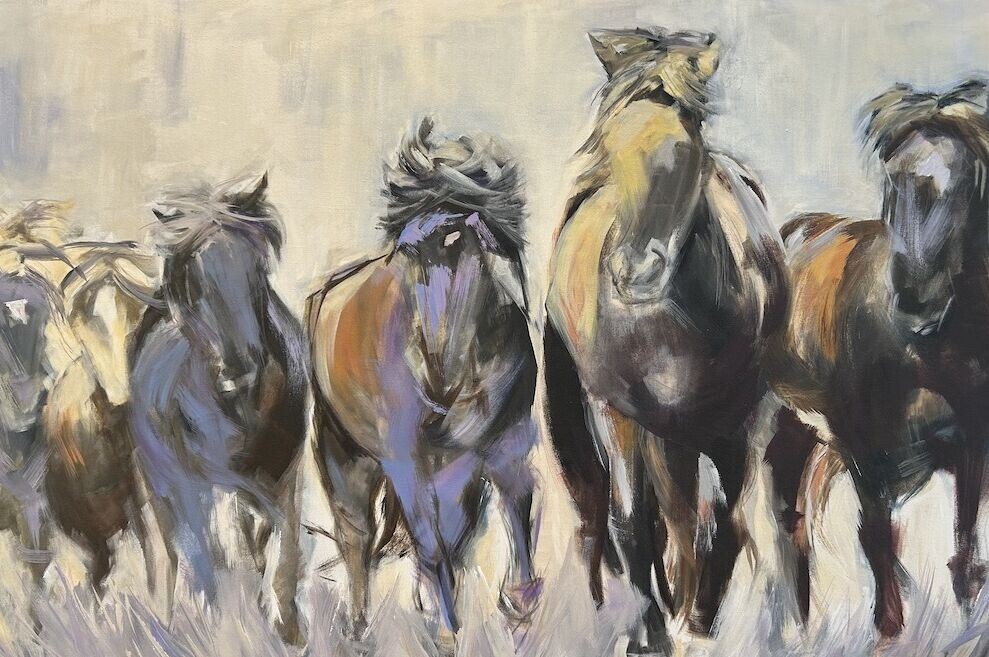 ELIZABETH RICKETSON
TWO PAINTERS ARTIST STATEMENT
Quiet and unexpected moments. Discoveries. Exploring and interpreting the less obvious choices in nature or backstage. Hiking, trail runs, sitting in the audience at Lincoln Center with my mother or next to her on a beach blanket in Little Compton, RI. The magical influences of my life are now conveyed on canvas.
A dancer in reflection. Retrospective moments. Grace exemplified in motion and in stillness.
Unusual color choices to describe the usual. The power of galloping horses running wild and free. The unharnessed spirit vibrantly painted. My hope and wish is to provide a different visual experience for the viewer.
ABOUT ELIZABETH RICKETSON
A graduate of Providence College with a BA in English, Elizabeth Ricketson has always had a love of literature and the fine arts. In the 1990s, she studied figure drawing at the Rhode Island School of Design spending years dedicated to understanding human form, movement and anatomy.
Painting and the exploration of color have become her passion in recent years. Exploring abstract expressionism has opened up a whole new way for Elizabeth to develop her paintings and approach to all of her work. Marrying her abstract style with representational themes while describing the usual with unusual color choices has become the definition of her work. She frequently begins each piece with an acrylic wash, manipulating the color and direction which results in the final expression of her under painting. She employs everything from a paper towel to her hands to optimize the final depth of color and subject. Elizabeth works primarily in acrylic and oil.
Elizabeth is a member of the Cambridge Art Association, Artistree Community Art Center, AVA Gallery and Art Center, Post Road Art Center, Southern Vermont Art Center and Vermont Art Council. Currently, she is actively exhibiting at The Woodstock Gallery, Artistree Community Arts Center, AVA Gallery, Bryan Memorial Gallery, Cambridge Art Association, and various locations throughout New England. Frequently winning awards in Abstract and Landscape art since 2014. Elizabeth is a commissioned artist. Currently teaching contemporary painting classes at Artistree Community Art Center. Hired to perform painting demonstrations for local art associations such as AVA Gallery.
Elizabeth Ricketson works and resides in South Pomfret, VT with her husband Jon. To inquire about Elizabeth's work, commissions and pricing please email Elizabeth at elizabethricketson.art@gmail.com. Please find a selection of her work and images on her Instagram page: instagram.com/elizabeth_ricketson/
Recent Exhibits:

2021
Bryan Memorial Gallery: Gems and Giants 2021 "Run Wild Run Free" juried "Giant"
Cambridge Art Association: Bodies
Artistree Community Art Center: MUD 2021, Daily Artist, Flower Exhibit
Collective-the art of craft exhibit
Mark D. Knott, DDS, PLC exhibit
2022
Solo exhibit "A Voice To Be Heard. A Time To Consider"
Norman Williams Public Library / Woodstock, VT
The Woodstock Gallery
Mark D. Knott, DDS PLC exhibit
2023
Artistree Community Art Center: "Two Painters" Exhibit
Members Exhibit / Southern Vermont Art Center
Mark D. Knott, DDS, PLC exhibit
Solo exhibit at the Filling Station / Middlesex, VT
Artisans' Gallery / Waitsfield, VT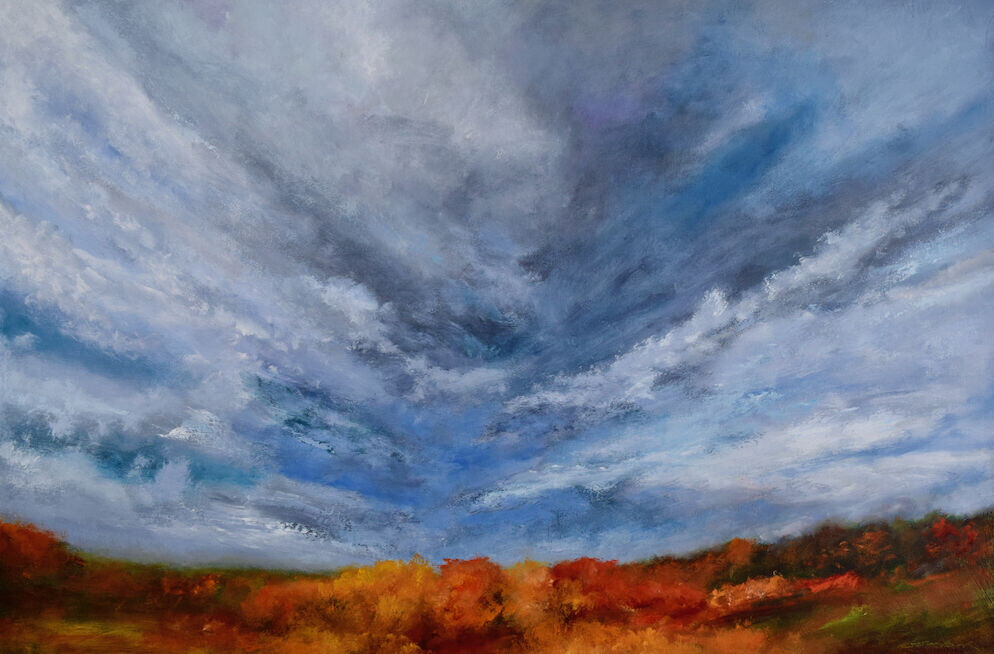 RICHARD GOMBAR
TWO PAINTERS ARTIST STATEMENT
I am an American painter of my environment. Where once art needed nature to survive, we now need art to help nature survive. While not politically motivated, in a sense--because I paint nature, my work is a political statement. I paint to capture beauty, to hold forever a passing moment, to memorialize that which may be fleeting, or in the case of barns and industrial sites, falling. If my paintings, pastels and drawings help more people become aware of what may be potentially lost, can invoke a sense of wonder as in childhood, and can be emotionally moving and provoking, then a statement with a profound impact may be the result. It is a search for the truth without sentimentality. My work is of nature, but just as important, it is about painting, color, structure. The images are about Romanticism, transcendentalism and pure emotion. I try to make the immense intimate.
ABOUT RICHARD GOMBAR
I am an artist, but I like the moniker 'painter' much better. I grew up in the very industrial city of Bridgeport, Connecticut. When I was young, in that environment, there seemed to be very little to do with the visual arts, but I knew from an early age that being an artist was for me. I wanted to paint pictures. Surrounded by industry in many forms, I took solace at the local beaches, marveling at the play of light, and how elements so simple as sky, water, and land could be so beautiful. I also found inspiration in the red brick factories, the railroad, the hard light and toughness of the city streets, anything that caught my eye, something that could be translated into a painting.
My uncle—a dentist who liked playing banjo and the arts in general—gifted me with a set of Grumbacher Soft Pastels, a big set in wooden box, that I have used for years and still have. Walking around downtown Bridgeport, I found an art supply store that offered art classes in the back room. This is where I met Frank Covino, portrait artist and teacher. He had a traditional approach to painting, and I learned in a very classical way how to mix color, do underpainting, block out a painting and, most importantly, how to finish it. It was a lesson on learning to be disciplined, to paint or draw every day. He also made it fun, and related stories of his own life growing up in Brooklyn, which was very much like mine.
I applied to Frank's alma mater, Pratt Institute, was accepted and really continued my journey. After graduating, I spent 30+ years in New York City working a variety of jobs to support my art making. I taught in a private school, Hofstra University, as a carpenter/contractor and Exhibitions Manager for Construction at the Guggenheim Museum. Throughout those years, and after a move to New Jersey, I traveled throughout the region painting industrial landscapes, and to upstate Connecticut and New York, where I took to painting barns and landscapes.
I now live in Vermont, where there is never a lack of beautiful places to paint. Working mainly in oils, pastel, and other mediums, I strive to create images that will evoke deep emotions in the viewer. The sense of belonging, of being a part of nature can draw the viewer deeper into the painting, fostering a heartfelt understanding of our world. The landscape of the northeast, especially in the midst of winter where colors are muted and quiet—is subtle and hides itself with ever-changing weather. It's moody and fleeting. This is where you'll find me, forever searching my surroundings to find something that catches my eye—a clump of trees, a fallow field, or a view of distant hills under gray autumn skies—so that what moves me can become a painting.
My work has been described as Romantic, Transcendental, and beautiful. It can be found in many private and public collections, and I have been mentioned in Art New England, The New York Times and other publications. I am currently teaching art and enjoying painting full time.
"I feel you are capturing what painting should be all about"—Lydia Renee Gralla