In the Limelight: Artistree Community Theatre Jr. (A.C.T. Jr.)
A growing theater troupe energizes young thespians.
"We've never seen her so happy!" exclaimed the parents of an Artistree musical theater camper. Their daughter was one of 26 children who spent two weeks in July immersed in theater games, rehearsals, and performances of Disney's Frozen Jr. Over the years, Artistree's Grange Theatre has hosted several children's productions and its growing theater department offers a variety of theater classes for kids. This fall, Artistree proudly announces that it will consolidate its youth theater programming under the name Artistree Community Theatre Jr., or A.C.T. Jr.
This new and exciting theater troupe for young people will be headed up by Woodstock native and Artistree Theater Educator Abbie Levison. Abbie herself became involved in theater at age six and is thrilled to help kids explore their imagination and creativity. "I did programs like this when I was growing up and I learned a lot about myself through becoming different characters. Theater is a nice outlet for kids to express themselves."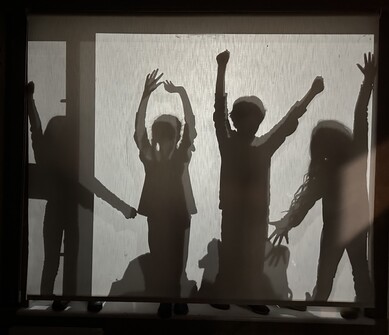 (right) Students in Theatre Movement and Dance class on November 14, 2022

The creation of A.C.T. Jr. hopes to grow a local community of youth who love theater and feel connected to one another. Under the umbrella of A.C.T. Jr., Artistree will offer its children's theater camps and acting classes with the addition of school year youth productions. This winter Abbie will direct Rodgers and Hammerstein's Cinderella: Youth Edition as an after school program for students ages 8-14. "The after school schedule is easier for families, which makes it more accessible to kids," remarked Associate Director of Programming Sheena Solitaire. "Artistree's scholarship program also opens up opportunities for participation."
Theater offers children important social and emotional learning. Frozen director Marcia Bender, who heads the Yoh Theater at Woodstock Union High School, notices how her camp enabled kids to take on new challenges and initiatives. "Campers had to have all of their lines memorized over one weekend–and they did it." Marcia recalls. "The kids stepped right up. Older campers voluntarily set up hair and makeup stations for the younger children before shows. The camp was an opportunity for kids to come and enjoy participating in a program that's very high quality but also very accepting, too. There are no auditions to get in. Having a real theater to perform in was also a highlight for the kids."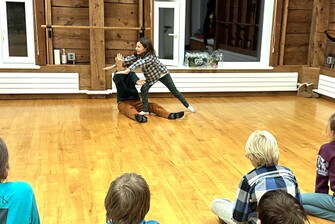 (right) Learning how to create stories through movement in Theatre FUNdamentals class
"Theater is an intersection of all the arts–-music, acting, visual art, costumes," notes Sheena. "A.C.T. Jr. gives kids a way to experience that integration of the arts." In addition to Cinderella, A.C.T. Jr. plans a Broadway musical revue entitled Pure Imagination in March for younger children featuring songs from plays such as Shrek, Beauty and the Beast, Peter Pan, Matilda, and more.
"I love doing shows with kids. It's really fun and magical," says Abbie. Abbie has been teaching children's theater classes at Artistree this fall and her students give her rave reviews. The Rodgers and Hammerstein version of Cinderella holds a special place in her heart as well, as it was one of the first shows Abbie performed as a child and she has directed it a few times. Cinderella will be performed in February 2023 for the public and local schools in the Grange Theatre.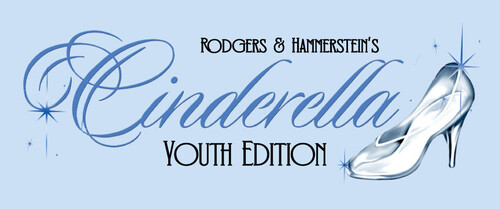 To find out what's coming up for A.C.T. Jr. in 2023, please check out Artistree's after school classes.
To learn more about Abbie Levison, visit our website.