You're a Good Man, Charlie Brown!
Charles Schulz, creator of PEANUTS, said one of his greatest joys was standing in a theatre lobby during intermission of a production of You're a Good Man, Charlie Brown and watching the smiles on the faces of people streaming out. As he explained to Charlie Rose in an interview in 1997, "I'd think how wonderful it is for a family to go to a show like that, where there's not a single rude word in it or a raunchy thought or anything. It's just good, clean, funny things."
Schulz's genius was a keen understanding that happiness isn't funny, and therein lies the enduring and humorous appeal of the PEANUTS characters and their storylines. Their struggles are our struggles. Everyone can relate to failure (Charlie Brown and his always losing baseball team), unrequited love (Lucy and her unreturned feelings for Schroeder), loneliness (Snoopy and his fantasy world), insecurity (Linus and his blanket) and so forth. You're a Good Man, Charlie Brown tangles with all these not-so-funny issues through the gift of Schulz's gentle observational humor, and leaves the audience better for it.

ArtisTree's production of You're a Good Man, Charlie Brown opens on Thursday, November 7th at 7:30pm at The Grange Theatre in South Pomfret, VT and runs through Sunday, November 10th. The show follows a day in the life of Charlie Brown. It flows in a series of vignettes meant to mimic the feeling of reading the comic strip.

The show's characters include Charlie Brown, Lucy, Linus, Sally, Schroeder, and Snoopy. Director Ashley Barrow is accentuating the simple style of comic strip action by instructing the actors to keep their movements sharp and specific. Also, there's minimal "cheating". Cheating is a stage technique in which the actor turns his body toward the audience to speak or sing. However, in this production actors face each other directly to communicate, imitating an interaction from a comic strip panel. Barrow confides that when she was in high school she played Lucy in a production of Snoopy! and loved the show. She wanted to direct You're a Good Man, Charlie Brown because "it doesn't matter if you know the characters already, everybody gets it. It's a feel-good show for any age."


You're a Good Man, Charlie Brown opened on Broadway in 1971, twenty-one years after the comic strip was first published. A revised version of the musical that included new songs and replaced Peppermint Patty with Sally Brown, went on a tour of major U.S. cities in 1999. The tour featured Kristen Chenoweth, who won a Tony award that year for her performance as Sally. The cast of ArtisTree's You're a Good Man, Charlie Brownembodies the next generation of PEANUTS performers and fans. Most of the cast is from Hanover High School, with the exception of one cast member who attends Woodstock Union High School and another who is from New York City. When asked why people would want to go see this show, Carly Ameling who plays Sally Brown and is also the choreographer says, "it's timeless."

"The show is so perfectly cast," says Barrow, referring to the connection each actor has developed for their character. TOJ Marceau is a believable and lovable Charlie Brown in the way he portrays his character's anxiety and quirkiness. Anya Traudt portrays a light-hearted and thoughtful Snoopy, which rings true to both herself and the character. Maddy Zuckerman plays Lucy, and watching her perform the actress comes across equally confident and in charge. Johnny Lang exudes the earnestness of Schroeder. Like his character, Lang sits in his chair and mindfully digests his thoughts as the cast bubbles around him during a break. Finn Powers plays Linus and easily shares personal insights with his friends, much like Charlie Brown's best friend does in the comic strip. Carly Ameling gives Sally Brown her effervescent energy and playfulness.


You're a Good Man, Charlie Brown will feel nostalgic to some and fresh to others. Charles Schulz will not be standing in the lobby of the Grange Theatre watching as audience members stream out with smiles on their faces, but he will be there in spirit. His legacy lives on through his timeless and quirky characters. Tickets are on sale now at artistreevt.org or by calling 802-457-3500. ArtisTree would like to give special thanks to the show's community sponsor, Mascoma Savings Bank!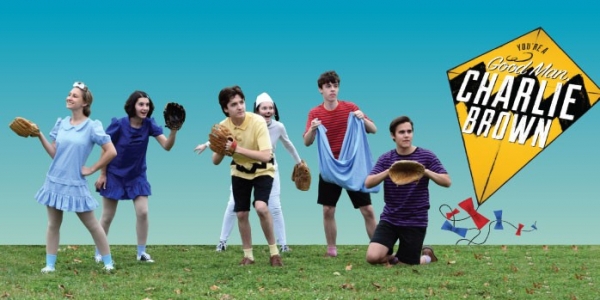 Next Blog Post
It's hard to define Katie Runde as anything other than a Renaissance woman. The 34-year-old describes herself as a realist painter, saxophonist and spiritual thinker who sometimes preaches at her local church.