The Global Day of Clay
Wednesday November 8th
Powered by you, #Global Day of Clay is the first truly worldwide celebration of ceramics in all its forms, connecting professional ceramicists, artists, academics and everyday ceramics lovers everywhere to explore new ideas, innovations and works that are shaping the future of the art form.
2017 is the inaugural year of this event and ArtisTree is delighted to be a part of it. We are excited to share our studio and let people see what they can do with a pound of clay.
| | | |
| --- | --- | --- |
| raw bmix clay | "Skull" by Jacob Merrill | "Bowl" by Julia Kate Davis |
Continuing our celebration of clay, ArtisTree will be at the Norman Williams Public Library to offer a free program for kids 1st grade and up.
Kids will get a pound of clay and will be free to explore what they can make using their hands.
| | |
| --- | --- |
| Seascape by Agnes Kadarshian | Turtle by Graham Fox |
Joining in the celebration, Charlet Davenport of Sculpture Fest is opening her studio at 11 and will host a reception with refreshments from 3 - 6 Wednesday afternoon.
She will be featuring a number of local ceramic artists
The ceramic work will remain installed until the Sunday after Thanksgiving and the studio will be open 11-4 Thursday through Sunday.
Location: 509 Prosper Road, Woodstock.
We are fortunate to live in an area where there is an abundance of ceramic artists and potteries to investigate.
Below is a list of Vermont based organizations where you can search for potters and ceramicists throughout the state.
http://www.vermonthandcrafters.com
The Global Day of Clay is an international event. There are symposiums, lectures, demonstrations, periscopes, and facebook live feeds happening all over the world.
Visit https://www.92y.org/globaldayofclay.nceca.net and http://nceca.net to see listings of events, follow live feeds and images being posted.
3 Ways to Clay!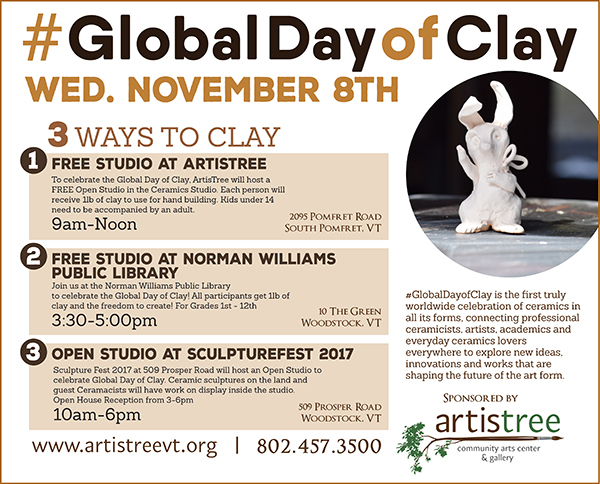 Next Blog Post
6 Ways to get the kids to smile without saying cheese