Mail Art! It's a thing!
Imagine my delight yesterday when, instead of the usual bills and junk, I received this exciting piece of mail.
Mail Art, Postal Art - turns out, it's a thing! Amy posted on Instagram and said, "Any medium on any paper. There is no right or wrong way to make mail art". She and her sister have been exchanging pieces since they were young. It's so much more creative and personal than just dropping a Hallmark card in the mail!
Thanks to Amy J Harkins for the inspiration. Look for her on Instagram!
I'd heard about mail art from Mark Bloch, a multi-media artist (and Quaker Friend) from New York, who has been making, collecting, and archiving Postal Art for almost 40 years. His website, www.panmodern.com includes essays documenting 150 years of mail art, and an exhibition from his Postal Art Network, collected over the past years, was scheduled to open March 26 at NYU. (Alas, the exhibition has been postponed, but you can listen to Mark's podcast about it here.)
Some people have used mail art to communicate to friends living under censorship. We can use it to communicate during quarantine (and give the postal workers some smiles)!
HOW TO:
Start by making an envelope. All you need is some paper (I used printer paper) and a glue stick. Fold the paper nearly in half, leaving a 1"-2" margin for a flap. Cut off thin strips on either side of the longer part of the paper, then fold in the tabs to seal up the sides. Now you're ready to decorate your envelope and create the contents!
envelope dimensions for first class mail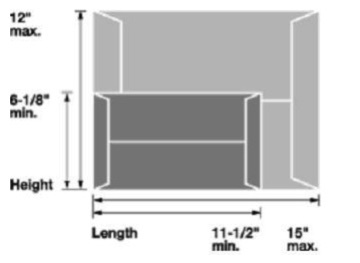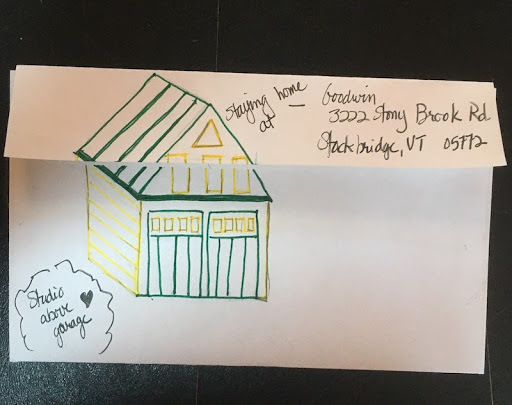 Send mail art to friends and family! Text, drawings, cut-outs, paintings, poetry - the only rule is, if you receive a piece of mail art, you should send a piece in return. And hopefully another piece after that to someone else.
You can also send Artistree your Postal Art, we'd love to see what you come up with.
ArtisTree Community Arts Center
PO Box 158
South Pomfret, VT 05067
| | |
| --- | --- |
| | |
| Before Mail Art | AFTER Mail Art! |
Next Blog Post
The staff at Artistree leads us through some creative ideas while in quarantine!